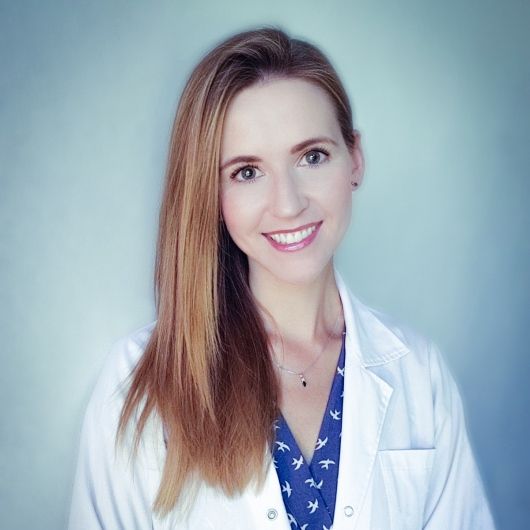 lek. Katarzyna Koneczna-Weiss
specialist in obstetrics and gynecology
Dr Katarzyna Koneczna jest absolwentką II Wydziału Lekarskiego Akademii Medycznej
w Warszawie. Związana zarówno z lecznictwem szpitalnym jak i ambulatoryjnym.
Dr Katarzyna Koneczna zajmuje się:
– medycyną matczyno-płodową, prowadzeniem ciąży, ultrasonografia w położnictwie i
ginekologii
– wykonuje referencyjne badań ultrasonograficzne w ciąży zgodnie z wytycznymi FMF
Fetal Medicine Foundation oraz Sekcji Ultrasonograficznej Polskiego Towarzystwa
Ginekologów i Położników.
– wykonuje zabiegi endoskopowe- laparoskopia diagnostyczna i operacyjna,
histeroskopia diagnostyczna i operacyjna.
– przeprowadza zabiegi diagnostyczne w leczeniu niepłodności.
– zajmuje się nowoczesnymi metodami operacyjnymi wysiłkowego nietrzymania moczu
oraz wypadania narządu rodnego.
W kręgu zainteresowań zawodowych dr Konecznej znajduje się także ginekologia
estetyczna- zabiegi wypełniania warg sromowych kwasem hialuronowym, powiększanie
punktu G, mezoterapia, rewitalizacją pochwy i sromu.
Doświadczenie:
– Szkolenia i kursy z zakresu ultrasonografii, w tym zagraniczne: Konferencja Fetal
Medicine Foundation FMF w Nicea, Francja.
– Certyfikat Fetal Medicine Foundation do wykonywania usg w 11 – 13tyg z oceną
przezierności karkowej i testów PAPPA.
– Certyfikat Polskiego Towarzystwa Położników i Ginekologów do wykonywania badań
ultrasonograficznych w położnictwie i ginekologii.
– Uczestniczka licznych krajowych i zagranicznych zjazdów z zakresu ginekologii i
położnictwa.
– Uczestniczka licznych profesjonalnych kursów w zakresie ginekologii estetycznej.




Magdalena Gielecińska, MA


coordinator of the nurses and midwives team




reception and administration manager





patient service specialist



patient service specialist
FemiClinic is a place created by Dr. Marta Blumska-Janiak, a specialist in obstetrics and gynecology, international expert in plastic, aesthetic and reconstructive gynecology, and Jacek Rajnowski-Janiak, a manager with many years of experience and successes in the field of management. FemiClinic was created primarily for women. Thinking about them, their needs and expectations. FemiClinic is a clinic for women at every stage of life. The FemiClinic team consists of the best specialists in the field of obstetrics and gynecology, aesthetic, plastic and reconstructive gynecology, plastic surgery, endocrinology, diabetology, ultrasonography, genetic testing and rehabilitation.
Modern gynecology
Healthy pregnancy
Prenatal ultrasound
Prenatal diagnosis
Plastic, aesthetic and reconstructive gynecology
Gynecological laser
Plastic surgery
Endocrinology
Diabetology
Thyroid and breast biopsies
Urogynecological rehabilitation
Rehabilitation
Ultrasound
School of childbirth
Sample collection facility
Training for doctors